Hello!
I am back with yet  another blog.We have heard about many laws , local as well as national , for the protection of butterflies in India.But still there are many more organisations and societies which are promoting butterfly conservation through their interactive sessions and programs.Todya , we will be talking about these organisations and societies.So , let us begin.
1.WWF-INDIA
WWF-INDIA is one of the largest conservation organisations engaged in wildlife and nature conservation in the country.This organisation plays an important role in the conservation of butterfliy species , especially the Kaiser-i-hind butterfly.This specie is also known as the Emperor of India due to its shimmering greens, bright yellows and delicate blacksThe Kaiser-i-Hind is a local and rare butterfly which is protected by Indian and Nepalese law. Protection enforcement in these countries not being effective, it is hunted and collectors pay heavy prices.The two species of Kaiser-i-hind were listed in CITES, Appendix II from 1987 onwards.IUCN has listed this butterfly in the ''Near Thretened '' category.It is also threatened by limestone mining activities.
WWF-India is working to conserve the habitat of this butterfly through its different landscape programmes in Eastern Himalayas.
kaiser i hind butterfly
2.BNHS-BOMBAY NATURAL HISTORY SOCIETY
BNHS has been promoting the cause of a natural India for the past 127 years since 1883.It organises nature trail camps covering a wide variety of habitats in India from the snowy Himalayas to the rain swept forests and deserts.The objective is to connect people to nature conservation, advocate eco-tourism and encourage local participation.It encourages conservation by making CECs( Conservation Education Centre  ) in Mumbai and Delhi.It also organises Training sessions, Workshops, Nature Trails and Customized Programs for adults, children, families and corporates to create awareness about conservation.It has played a major role in butterfly conservation.
A small area outside CEC is developed in Butterfly Garden. There are several foodplants as well as nectar plants planted in this garden. At any given time, visitors get to see butterflies seeking nectar or a caterpillar chopping away the leaves and if one is lucky they may get to see butterflies laying eggs or butterfly emerging from a pupa.
It also organises the following awareness programs:
a.Breakfast with Butterflies
b.Butterfly watching trails
c.Butterfly watch Nature Camps
d.Bas with Bugs
e.Meal with Moths
f.Publication of books and booklets
It has been publishing the BNHS journal since1886.
3.BUTTERFLY CONSERVATION SOCIETY , HYDERABAD
BCS
was founded in December 2005 by a few enthusiasts from Hyderabad, Andhra Pradesh, with the objective of spreading the message of conservation of valuable butterfly fauna and other insects and also to protect their habitats and to create awareness among both the young and old.The society organises field trips, lectures, nature camps, film and slide shows. It is registered under the Andhra Pradesh Societies Registration Act 2001.It has the following objectives:
a. To generate interest in butterflies and their conservation among young and old.
b. To create awareness among people about the beneficial role of butterflies and other insects their habitats towards a healthy ecosystem.
c. Networking with other organisation in nature conservation including research and also to conduct workshop and training programmes to enhance knowledge on this subject.
d. To provide, equip and maintain a museum and other repositories for butterflies and other insects along with herbarium consisting of butterfly flora which provide nectar for adults and larval food plants.
e. Assisting educational and other institutions and in individual homes and parks for erecting butterfly gardens/parks in their premises.
f. Develop database on butterflies available in AP and to prepare field guide on butterflies in Andhra Pradesh.
g. To bring out a newsletter on butterflies to publish and exchange information on butterflies.
4.HORIZON INTERNATIONAL AND BUTTERFLY CONSERVATION , ASSAM
This organisation has successfully launched an initiative for the conservation of butterfliesThe primary objective of the programme has been to initiate people into the fantastic world of butterflies and to encourage them to get involved in butterfly study and conservation.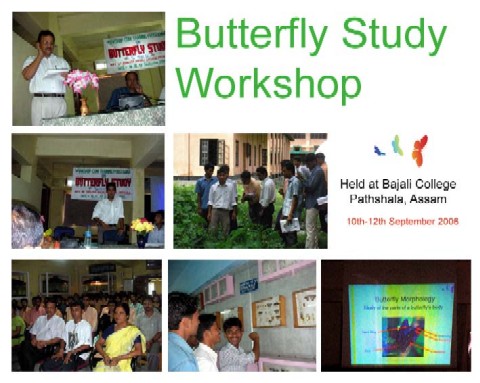 The second butterfly study workshop was held at Bajali College, Pathshala from 10-12 September 2006
A training programme on butterfly study and strategies for their conservation has been designed as part of their effort to create a group that conducts research and field studies on butterflies and to gradually build a network that furthers long-term butterfly conservation at national and international levels.
The programme has been quite successful and over the past six months they have conducted camps in different parts of Assam, reaching out to over 70 undergraduates and high-school students.
This has been achieved by working with Departments of Zoology in different colleges where life-sciences are taught, as well as networking with environmental NGOs working in the field of wildlife conservation.
Their on-going efforts have helped them to initiate individuals into more systematic butterfly study and consequently form a framework for a much-needed butterfly conservation network.

5.BANNERGHATTA NATIONAL PARK , BANGALORE
The country's first Butterfly Park was established at the Bannerghatta Biological Park.THE BUTTERFLY PARK comprises a butterfly conservatory, museum and an audio-visual room.
The environment has a tropical setting — complete with the humid climate, an artificial waterfall,a narrow walking bridge and host plants and shrubs that attract butterflies.
The conservatory leads to the second and third domes, which house the museum containing dioramas and exhibits of carefully preserved,exquisite butterflies.
the entrance to butterfly park.
a view inside...
SOME OTHER MEANS. . .
1.BUTTERFLY STAMPS
Th government has been promoting the conservation of butterflies through stamps.
2.OPENING BUTTERFLY CONSERVATORIES
The government has opened several butterfly conservatories.It has opened the following conservatories
a.Bannerghatta National Park
b.Butterfly Conservatory of Goa
c.Butterfly Park in Himachal Pradesh
d.India's first Open Air Butterfly Park opened in Sikkim
Now , we come to an end of this blog.I hope that the government keeps promoting the conservation of butterflies.
Till then
Byee
Regards
Aakarsha Handa